FOR THE CARRIAGE OF SWARF, SEMI-FINISHED & FINISHED PARTS
To handle wet or dry applications with the ability to accommodate large volumes of liquid.
For chips and bulk swarf.
For long or helical (curly) swarf and fine, wet, dry or hot swarf chips.
Will accommodate steel, cast iron, aluminium brass, or plastic materials.
Permanent magnetic sliding conveyor for swarf disposal and filtration.
For Ferro-magnetic treated products and swarf chips.
Continuous and careful transport is possible up to an angle of 90º.
Conveying speed 1m to 15m per minute
Section widths available from 200mm to 500mm.
Used for short aluminium or steel grinding chips.
For high volume coolant flow.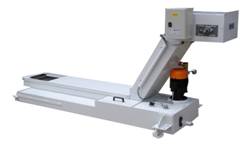 Conveyor can be integrated into filtration systems and machine tools to provide continuous removal of sludge, swarf and small chips in a wide range of machining applications.
Beda-Technology can supply conveyors tailored to customer requirements, in a wide range of designs including scraper, magnetic and slatband.
Downloads
Link to Info/Tech sheet